German app finds you a hooker
22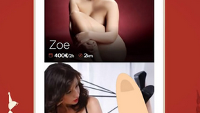 You're in Germany, feeling alone and willing to pay for some, uh, company. Well, thanks to Berlin's Peppr, there's an app for that, too. Calling itself "
the first mobile Web app for booking erotic entertainment
," the site was launched this month in Berlin with plans to expand to other cities soon. By the way, if you haven't guessed by now, prostitution is legal in the country.
Users of the app can pick a "pro" by selecting from pictures. They can also pick by gender, price, sex, age and physical characteristics. Extras such as "leather fetish," can be added. These profiles are free for the prostitutes to post, with those using the site asked to pay a $7 to $14 booking fee.
"I was walking down Oranienburger Strasse – I know it sounds cheesy, but it's the truth – it was chilly and I saw the poor girls on the streets, and I thought, why isn't there an app? It's not efficient to wait outside."-Pia Poppenreite
The app could bring in some big bucks for the app's founder, Pia Poppenreite. Legal prostitution brings in $21 billion a year in Germany.
source:
NYPost