"Geeky" Shaq spends $1000 a week on apps, awaits the Apple iWatch
27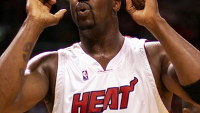 Shaquille O'Neal may not pound the hardwood any more, but he remains one of the most recognizable former athletes around. You might not consider someone so physically imposing to be a "geek," but Shaq certainly fits the definition. After all, he was one of the early pre-IPO investors in Google. You won't find that on the back of any of Shaq's bubble gum cards. In addition, his Twitter account is widely followed (8 million and growing) and was the first Twitter account to be verified by the company.
Shaq is such a tech guy, that before the OG
Apple iPhone
launched, he called Steve Jobs to see if he could obtain a pre-release unit. But even a big-time star like Shaq (who was playing for the Miami Heat when the Apple iPhone was launched) could not persuade Jobs to give him an iPhone before the launch.
The 7 foot 1 inch O'Neal says that he spends $1000 a week on apps, searching for the the next big thing in tech. Considering his height and size, we'd say that wherever he goes, Shaq is the biggest thing in tech. He admitted to buying 20 Deer Hunter type games last week, and when it comes to social media he says 60% of his messages are designed to make you laugh. Laughter, says Shaq, reduces stress. 30% of his messages are inspirational and the remaining 10% is Shaq trying to sell you something like FitBit.
'
Shaq is just like many of our readers. He wants to be the first to have a shiny new device in his massive hands, and he says that he is awaiting the release of the unannounced Apple iWatch. At SXSW, where Shaq has been hanging around, he says he is like a "
kid in a candy store
." You can check out the interview with one of the most famous former athletes around, by clicking on the video below.
source: WSJ