Garmin Vivomove 3 series: an incredibly classy watch with a hidden smart display (hands-on)
2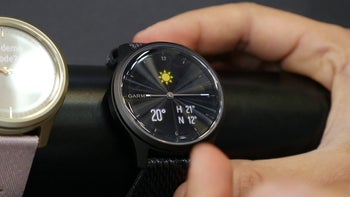 Garmin has just unveiled a brand new series of luxury hybrid smartwatches, the Garmin Vivomove 3 series, that on the outside look just like a traditional smartwatch, but hidden underneath the dial is a clever display where you can see notifications, calls, as well as fitness and health data.
The Garmin Vivomove 3 come in a variety of sizes and finishes, from a more expensive and luxurious models with a stainless steel body to cheaper plastic models that still look very, very good.
The highlight here is the hidden display that lights up to show you notifications and you can also manually wake it up to see your daily health and fitness status. The hidden display comes in two parts, one at the top and a second half at the bottom. The watch hands move so as to free place for the information when you are looking at the hidden display and then when you are finished promptly go back to showing the time.
Here is a quick overview of all the different features you get on the Vivomove 3 series:
Receive emails, texts and alerts right on your watch, when paired
See your daily steps, floors climbed, intensity minutes
Garmin Body Battery and Stress Tracking
Heart Rate tracking and Manual Hydration Tracking
Sleep Tracking with Pulse Ox
GPS for tracking outdoor walks and runs
Activity profiles for yoga, strength, cardio, pool swimming and more
Industry-standard 20 mm quick-release bands
We played with the watches, and we were truly impressed with the stainless steel model. The battery on these watches lasts an average of around 5 days, which is definitely not as much as on other hybrid watches that can sometimes last weeks, but it's still much better than having to charge your watch every day as with say the
Apple Watch
.
And there is really something special about having a watch that looks practically indistinguishable from a classic timepiece, yet can track so many different things and show you your notifications too.
Price and Release Date
There are three different versions of the new Vivomove watches: the Luxe which comes at the middle 42mm size and features a luxurious finish with either 24K gold-plated or regular stainless steel case, then you have two different sized Vivomove 3 watches with a fiber-reinforced plastic where only the bezel is made of stainless steel, the 3 has a large, 44mm size, and the 3s features a small, 39mm size.
Vivomove Luxe (42mm size, 24K gold, or stainless steel case): from $500
Vivomove 3 (44mm size, stainless steel bezel): $250
Vivomove 3s (39mm size, stainless steel bezel): $250
Garmin has not announced a specific release date yet, but expectations are that the watches will become available in 5 to 8 weeks.