Garmin Vivoactive 3, Vivomove HR and Vivosport: IFA 2017 hands-on
2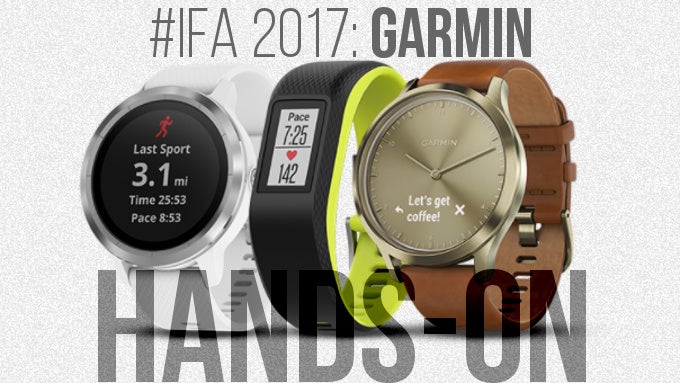 Garmin unveiled three new smart wearables at the largest tech show of the second half of the year,
IFA 2017
, and we take a hands-on look at all of them: the new $300 Garmin Vivoactive 3 smartwatch, the $200 Vivomove HR, a hybrid smartwatch, and the $200 Vivosport fitness band.
While all of these are aimed at the health and fitness enthusiast, the Vivoactive 3 is the one that is a full-on smartwatch, with the most functionality and workouts (including golfing, cycling, swimming and snowboarding/skiing). The hybrid Vivomove HR is the most stylish of the bunch and closest to what a traditional watch looks like. Its tiny display only turns on when you need it to flash an incoming notification discreetly. Finally, the Vivosport is a fitness band with a rectangular display that is much lighter and more comfortable to wear, an important advantage for those who really work out hard.
With no further ado, here are our first hands-on impressions with the new Garmin wearables at IFA 2017.
Garmin Vivoactive 3
Price: $300 | Battery life: Up to 7 days
The flagship product of the new lineup is the Garmin Vivoactive 3, a full-on smartwatch with a battery life of up to a week. The new Vivoactive 3 sports Garmin's Chrome screen, a full-color and sunlight readable display and it is an actual touchscreen. There is a brand new interaction mode: you can now swipe on the side of the watch case, a "side swipe" as Garmin calls it. It's useful for those times when your hands are dirty or when you don't want to obstruct the already tiny display of your watch.
The Vivoactive 3 also supports a ton of apps for fitness enthusiasts. Out of all three new wearables, these types of workout apps are only available on the Vivoactive 3: golfing, swimming, snowboarding/skiing, paddling, rowing, yoga and elliptical. Others like a running workout app are available on all three, and a cycling app is available on the Vivoactive 3 and the Vivosport band. Naturally, all those capabilities make the Vivoactive 3 the natural choice for those who engage in such sports.
The Vivoactive 3 is also the only watch to support the new Garmin Pay system, and that's neat because you can just go out on a run and shop for food afterwards without having to carry a wallet. The smartwatch is also the only one to feature a navigation app.
The watch also ships with built-in GPS and with a compatible phone, you can use the Garmin Live Track feature to share your location live, a feature that might be a life-saver in quite a literal sense.
Garmin Vivomove HR
Price: $200 | Up to 5 days in smart mode
The Garmin Vivomove HR definitely has the looks and style that the other two wearables lack. It looks just like a traditional round watch, but there is a tiny "hidden" display on its bottom part that shows notifications and important fitness stats. You double tap the screen to have the tiny digital screen to light it up, but you cannot light up the whole watchface.
As the HR monitor says, the Vivomove HR does come with a heart-rate sensor, and has support for features such as fitness monitoring, all-day stress tracking and VO2 meter. It lacks most workout apps, though, so don't expect any custom workout tracking here. It is also the only one of the trio without a GPS on board.
The Vivomove HR is a lot about style, so it naturally comes with the option to easily change the band with your favorite leather or other ones.
Garmin Vivosport
Price: $200 | Up to 7 days
The Vivosport is probably the least pretty of the bunch, but it is light and comfortable to wear, which is what is important for sports people.
Its tiny rectangular display has contrasty letters that are easy to see in different conditions, but it's a pixelized display and that's noticeable. It comes with a heart rate sensor, a GPS on board, and some sports apps cover strength training to cycling. No swimming or snowboarding/skiing apps here, nor the water-proofing necessary for them.
The $200 price is steep, but the fitness band offers comfort and Garmin's expertise in fitness. It ships with a rubber band with different color accents on the bottom part.