Gameloft uncovers N.O.V.A. 3 for iOS and Android, "coming soon"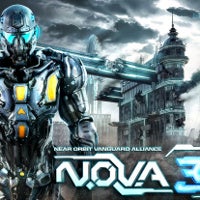 Gameloft has just unveiled it's developing N.O.V.A. 3, the latest iteration to its Near Orbit Vanguard Alliance shooter series for both iOS and Android.
The game will hit the App Store and Google Play later in the year, but that's about where details start to get scarce. Gameloft has released the official trailer, but we're yet to take a look at the actual gameplay. Judging by the studio's earlier releases, though, we can assume that the game would cost around $6.99 upon release.
N.O.V.A. 3 is the sequel to N.O.V.A. 2: The Hero Rises, released in 2010. The original N.O.V.A that kicked off the series was released on the App Store in 2009. The game centers around a Halo-like gameplay, and we expect the third game to offer multiplayer action along with the singleplayer missions.
Check out the game trailer for N.O.V.A. 3 which shows the game protagonist, Kal Wardin, flying and soon to crash land on Earth..