GameStop rolls out game-laden Android tablets to 1,600 stores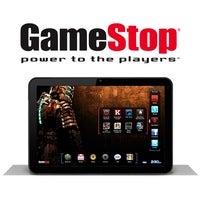 GameStop has been flirting with Android tablets for some time now. Last fall they were said to be testing out a
GameStop-branded
gaming tablet, and while that has not come to fruiting they also began testing Android tablets in a limited number of pilot stores since October. The
initial batch of 200 stores
were supposed to gauge demand, and apparently their customers have spoken in the affirmative, as GameStop is now rolling out Android tablets to 1,600 stores.
Customers visiting those stores will now find 7 and 10 inch tablets made by Acer, ASUS, and Samsung available for purchase; the tablets will be preloaded with up to five Android games. It's not clear if GameStop has a monetization plan beyond selling hardware and peripherals (if you're going to buy a game controller to go with your Android tablet, it appears GameStop has one of the better selections around). They do offer a self-branded app that lets you purchase physical games and manage your various reward perks, but they don't have a self-branded app store ala Amazon to sell mobile games from.
Google seems to finally be
getting serious
about gaming on Android, and GameStop's endorsement of Android as the go-to mobile gaming platform could work as a spring-board to greater success with the gamer market if improvements come swiftly to the green robot OS. Perhaps that's something we can expect of Jelly Bean, whenever it launches?
source:
Joystiq
via
TechCrunch