Galaxy S8 system dump lets Android users test drive the devices' apps
3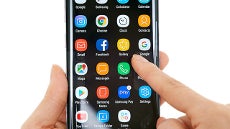 The
Samsung Galaxy S8
and
S8+
are finally here, and while neither device is yet available to purchase, this hasn't stopped many of the new apps from leaking out into the wild. A system dump over at
XDA-Developers
has outed a slew of S8 goodies, and many can be installed by those rocking other devices.
A package totalling just over 1 GB inside, some have had luck installing Messaging, Clock, Video, My Files, Galaxy Apps, Samsung Account and Samsung Cloud successfully, and without root. The new
Bixby
virtual assistant
can also apparently be installed
, though it's non-functional for now. Others, such as Camera, Always-on Display and Contacts, are said to be problematic. Notably, the Contacts app could prevent your device from receiving calls entirely, so you'll probably want to give that a miss.
Whichever apps you decide to try—if any—proceed at your own risk. Installing anything outside of the Google Play Store is always a bit of a gamble, so please bear this in mind. Also, even in if you can get any apps up and running without too much fuss, they may handle rather differently (read: worse) on your device compared with the S8. With all that said, if you have a spare device gathering dust and would like a vague preview of Samsung's Galaxy S8 user experience, you may wish to check out some of the APKs in the system dump, which is linked at the source.
As noted, many apps can be installed sans root, but if your device is indeed rooted, you're probably going to get better results. Presumably, a recent high-end Samsung Galaxy device like the S7 will also increase chances of success, as will the presence of Android Marshmallow.
Meanwhile, if it's Galaxy S8 wallpapers you're after,
they can be found here
. If you do happen to indulge in this bundle of S8 treats, let us know how you get on in the comments.