Galaxy S III U.S. signup page showed 7 carriers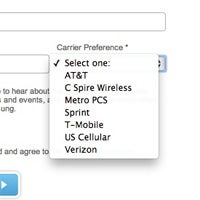 Innocently enough, Samsung put up a signup page for U.S. customers to give their email address to receive updates on the Galaxy S III as information becomes available in reference to its U.S. debut. As reported by PCMag with an accompanying screenshot, the page featured a "Carrier Preference" dropdown box that has since been removed from the page.
The box enabled you to choice between AT&T, C Spire Wireless, Metro PCS, Sprint, T-Mobile, US Cellular, and Verizon. What is interesting about that list is it is not representative of the seven top carriers, making it seem that those carriers were picked for a specific reason – possible the carriers that will eventually carry the Samsung Galaxy S III.
Samsung sidestepped that accusation by saying, "The sign up page is a general page to gather customer information. The list of carriers is to find out who your carrier is to send you relevant product information."
One would guess that if it were simply gauging interest it would include a few of other larger carriers outside of the big 4, such as Cricket, or at the very least keep the option up on the page. This by no means guarantees that all seven of the listed carriers will definitely see the Galaxy S III on their networks or if they do, that they will all see the same version, not unlike the Galaxy S II variants across different carriers, but it does seem that these seven carriers might at least be on Samsung's radar.