Galaxy Gear Smart Remote app is the keypad, but you still need a phone to be the IR blaster
5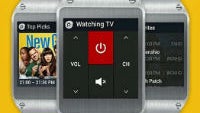 Look, we like the idea of smartwatches, but we're also a big fan of them being "smart". That doesn't mean just throwing any functionality at it and see what sticks, but being smart about what is the best use for a smartwatch, and what doesn't make sense. Unfortunately, we kind of feel like the new Galaxy Gear Smart Remote app falls into that second category.
The tag line sounds all well and good, saying that it makes your Gear smartwatch into "your universal remote control". The problem is that just isn't true. Sure, you can get reminders when your favorite shows are on, but you still need either a Samsung Galaxy Note 3 or Galaxy S4 to be the IR blaster that actually
controls
your TV. The reminder feature is nice, but the actual remote control feature just doesn't make sense. If you need to make sure your phone is pointed in the right direction anyway, why not just use your phone as the remote?
The app comes from Peel, maker of the WatchON app, which will actually be the app that is used to control your TV, so you have to make sure you have that installed on your Galaxy device.