GTA: Vice City coming soon to iOS and Android
29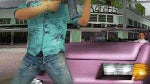 Grand Theft Auto has been a hallmark franchise in video gaming, and it looks like Rockstar wants to keep up its support for mobile versions of its games. Last year, we saw GTA III hit mobile, and Vice City is about to follow suit with release on iOS and Android.
The details are a bit sparse right now. Rockstar has simply announced that like the 10 year anniversary edition of GTA III that came last year, Vice City is on the way to mark the 10 year anniversary of that game. GTA: Vice City was originally released on October 29th, 2002, but we're going to have to wait until "later this fall" for Vice City to hit mobile devices. Of course, there is less than two months to go in fall this year, so we won't have to wait long.
Rockstar is promising that the iOS and Android versions of Vice City will feature "native high-resolution graphics and several enhancements unique to the iOS and Android platforms." Anyone else excited for this?
And, if tradition holds, this means we'll be getting GTA: San Andreas next year.