GSMA unveils nominees for best smartphone, feature phone and tablet of the year award
42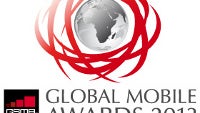 The GSMA is the association organizing the largest phone show in the world - Mobile World Congress in Barcelona - and it is also giving awards singling out the best devices of the year. And as the 18th annual awards are just around the corner, the GSMA has announced this year's nominees for best phone.
The Apple iPhone 5 is of course there, but just as you'd expect so are the Samsung Galaxy S III and Note II, fighting for the title. The HTC Droid DNA is the third Android device to make it in the nominations and there is even one Windows Phone handset, the Nokia Lumia 920.
The award winners will be announced in just around 20 days, so stay tuned.
Also then, the GSMA is awarding the best feature phones where the Nokia Asha lineup is well represented with the Asha 302 and 305. The two other contenders are the Nokia 103 and Samsung C3312 Duos.
In the tablet category, the iPad, iPad mini, Amazon Kindle Fire HD 8.9, the Asus Transformer Pad Infinity, the Nexus 7 and the Samsung Galaxy Note 10.1 will fight for the award.
And if we look at last year's results, best smartphone went to the Samsung Galaxy S II, best feature phone - to the Nokia C3-00, and the Apple iPad 2 was the best tablet.
source:
PR Newswire