New Fuzion app for iPhone steps up your Instagram influencer game with portrait blending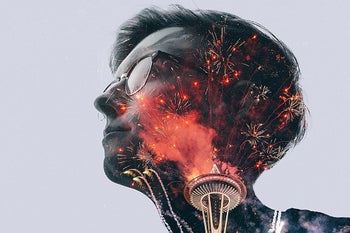 Double exposure and image merging can be a powerful tool for creating artsy and impressive portrait shots, but they are also time-consuming to edit and need a bit more depth info from the camera than for good results.
Fuzion app for iPhone
makes those tricks extremely easy to pull off by utilizing the depth perception of the front camera kit that notch-y iPhones like the
X
and above are equipped with, or the dual camera set on the
iPhone 8 Plus
.
The TrueDepth camera helps separate your silhouette from the background by mapping your facial features with thousands of light rays that create a unique 3D matrix when they bounce back to the iPhone's depth-sensing kit at the front. This perception is then used by Fuzion to contour your silhouette and cut it out from the background with great success.
Afterward, the fun begins. You can apply a background of your choosing within the portrait silhouette for some breathtakingly artsy possibilities, and add extra effects if you pay three bucks for the full version of Fuzion. This double exposure and blending exercise can turn you into the talk of your digital town square especially on Instagram where everyone is vying for attention with the ever more creative photos of their narcissistic selves.
We kid, but Fuzion is indeed a fairly effortless way to prettify and artsify your precious self for the unwashed masses that follow you, and it will be out at the App Store this Thursday, January 24, after a short closed beta testing period.