Futurama: Release the Drones coming to mobile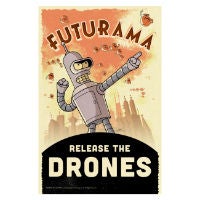 Futurama has apparently seen the last of its time on TV, but that doesn't necessarily mean the property is completely done. Word has it that Futurama is going to make something of a comeback, this time as a mobile game. We're just hoping that this game turns out better than the last video game version of Futurama.
Admittedly, the console game wasn't too bad, but it certainly wasn't a great game by any stretch. Futurama: Release the Drones is planned to be a puzzle game for mobile, which doesn't sound too exciting, but it does have some good names behind it. The game will be made by Wooga, a developer that knows puzzle games, with titles like Jelly Splash and Diamond Dash. Neither is the most original puzzler, but well made anyway.
The game will feature an original storyline written by Dave Grossman (Secret of Monkey Island, The Wolf Among Us), Jonathon Myers (Game of Thrones: Ascent) and Patric M. Verrone, a member of the original Futurama writing team. The game will center around the Planet Express crew as they fight a trade war against MomCo. Players will be tasked with connect groups of delivery drones to solve puzzles in order to deliver cargo to iconic environments from the Futurama universe.
No word yet on when the game will be released or what platforms it will come to, though it would seem reasonable that we'll see it on iOS and Android at least.