Full details about Snapdragon 670, 640 and 460 chipsets leaked out ahead of unveiling
10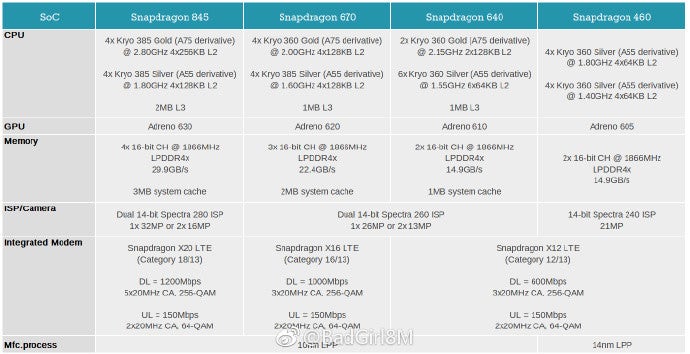 Aside from the already unveiled Snapdragon 845 top-tier chipset, Qualcomm plans to launch at least three other SoCs (system on chip) in 2018: Snapdragon 679, 640 and 460.
Although this is the first time we hear about these three unannounced Qualcomm chipsets, we've been able to learn quite a lot of things about them thanks to an image published on Chinese social network
Weibo
.
The image contains in-depth details about the Snapdragon 845, 670, 640 and 460 chipsets, but the first one is of no concern to us since
it has already been made official
.
That being said, let's deep dive into the raw information we're being given. First off, it appears that Qualcomm plans to use the same combination of ARM Cortex-A55 and Cortex-A75 architecture in Snapdragon 670 and 640 chipsets, while the Snapdragon 460 is limited to ARM Cortex-A55.
Qualcomm's upcoming Snapdragon 670 chip will be the most powerful in its lineup, second only to the top-tier Snapdragon 845. It comes with four Kryo 360 Gold (derivative of A75) CPUs clocked at 2GHz and four Kryo 385 Silver (derivative of A55) CPUs clocked at 1.6GHz.
The octa-core processor is paired with an Adreno 620 graphics processing unit and Qualcomm's Snapdragon X16 LTE modem.
Next in line, the Snapdragon 640 chipset consists of two Kryo 360 Gold CPUs clocked at 2GHz and six Kryo 385 Silver CPUs clocked at 1.55GHz. It comes with an Adreno 610 graphics processing unit and a Snapdragon X12 LTE modem.
Both Snapdragon 670 and 640 are manufactured using
Samsung FinFET 10nm technology
, just like the high-end Snapdragon 845 chipset.
Last but not least, Snapdragon 460 chipset is aimed at the low-tier segment but offers more than decent performance on paper. It features four Kryo 360 Silver CPUs clocked at 1.8GHz and four Kryo 360 Silver CPUs clocked at 1.4GHz. Furthermore, the chipset packs an Adreno 605 graphics processing unit and a Snapdragon X12 LTE modem.
Unlike the other three chipsets, Qualcomm Snapdragon 460 is manufactured using
Samsung's FinFET 14nm technology
, which isn't bad at all.
Although there's no information on when exactly these chipsets will be introduced, chances are that Qualcomm will announce them in late February at MWC (Mobile World Congress) 2018.