Fruit Ninja VR lets you obliterate fruit in virtual reality, coming out later this month
7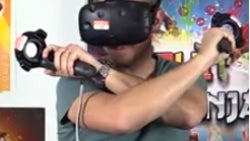 When Fruit Ninja launched back in 2010, it turned into an instant casual gaming sensation. Since then, it's been made available on pretty much every platform you can think of – it's on Symbian and Bada for Pete's sake – and has spawned innumerable clones. Now, with 1
billion
downloads under its belt (as of last year) and a live-action movie in the works, it's time for the fruit-slashing phenomenon to make its foray into virtual reality with Fruit Ninja VR.
It was the simple joy of slashing fruit on the touchscreen – tor more likely how fluid it was – that hooked so many people on Fruit Ninja. VR changes this. It's not only making the game more complicated, but also more... weird. Fruit Ninja VR looks like one of those weird dreams. You are standing in the middle of an old-fashioned Japanese square, your feet glued to the floor, while all kinds of fruit restlessly erupt from the ground around you. You are armed with a sword in each hand and all you know – all you've ever known – is how to flail around with those swords and make fruit salad. You have to deal with the occasional bomb and sometimes you get to slash those weird glowing bananas that slow time or mess with your mind in other ways.
The three familiar game modes – Classic, Arcade and Zen – are set to return to Fruit Ninja VR, probably accompanied by a PvP mode that we don't know anything about right now. Who knows, maybe it will be more than just two people facing each other in a square, mercilessly slashing away at flying fruit.
This is what Adam Wood from developer Halfbrick Games has to say of the upcoming release: "After the latest VR technology was released, we felt that there was no better game suited to VR than Fruit Ninja. The simplicity of Fruit Ninja with the total immersion of VR creates an experience like no other."
A game like no other,
indeed
, Mr. Wood. Fruit Ninja VR is expected to launch for the HTC Vive and Oculus Rift later this month, with versions for the Playstation VR and Google Daydream planned for later this year. Check out this gameplay video for yourselves: