From the makers of Fruit Ninja comes Fish Out Of Water, here's our review
18

Introduction
Chances are that if you have a smartphone of some kind, you've played, or at least heard of Halfbrick studios' mobile games. This is the team of developers behind smashing hit titles like Fruit Ninja and Jetpack Joyride, to name a few. Now, the guys are back with a brand new game called Fish Out Of Water, which aims to win our hearts with innovative, easy-to-grasp gameplay and cartoonish visuals, not to mention that the characters they've created look pretty darn cute! It didn't take us long before we hit that "Download" button, eager to take Fish Out Of Water for a spin!
Gameplay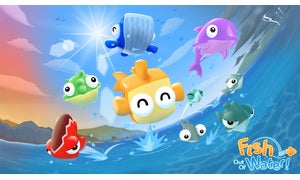 Meet Olympus, Errol, Finlay, Micro, Rocket, and The Brothers
Right after launching Fish Out Of Water we were treated to a quick tutorial explaining the game's goal and mechanics. We were introduced to its protagonists as well – six adorable creatures, each with its own traits, physical features and personality, that you must perform aquatic acrobatics with in order to score points. To tell you the truth, playing the game is so simple that even a child can get the hang of it in no time. You pick a fish (or mammal, in case you choose Finlay the dolphin or Micro the whale) with the touch of a finger, then flick it to the right as far as you can – each skip across the water's surface and each meter it travels get you points. That's pretty much it!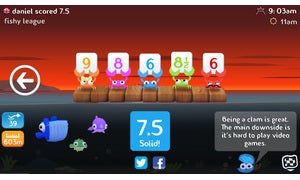 It's all about getting the highest score
But while the game is easy to play, we got bored with it rather quickly. Little did we know that the next time we opened the game – an hour or so later, it would present us with different in-game weather conditions. These affect the game's physics, so each fish or mammal skips the waves rather differently. That not only adds a bit of variety to the game, but introduces an element of strategy by forcing you to pick the right creature depending on the weather in order to beat a high score. Another thing that makes Fish Out Of Water less monotone is the list of achievements to complete and the various goals that give you experience and extra bonuses.
Speaking of bonuses, you get boosts as your fish or mammal travels, while the crystals you collect while leveling up give you additional power-ups. Crystals can also be purchased with real money, but enjoying the game at its fullest is definitely possible without ever spending a dime on in-app purchases.
Graphics and sound
While Fish Out Of Water won't push your phone's GPU to its limits (although it did run a tad choppy on an iPhone 4), it comes with pretty visuals, composed of both 2D and 3D elements. In a nutshell, the game reminds us of a cartoon, which we find fitting for its theme and gameplay. The music and sound effects are also well picked for they carry the essence of summer, the beach, and all the splishy-splashy fun one can have in the water!
Conclusion

The skilled guys and girls at Halfbrick Studios have crafted their latest with attention to detail and it shows with each minute you spend playing Fish Out Of Water. But while it seems suitable for the younger gaming crowd, it isn't really made for hardcore gamers. It is a game for those times when you're on the bus, or in a line and you have a few spare minutes to kill. And while the game is cute and pretty, it seems rather shallow and gets boring quickly, even with the various challenges and the change of weather.