From the iPod to the iPhone – former Apple executives explain the journey to changing mobile phones forever
8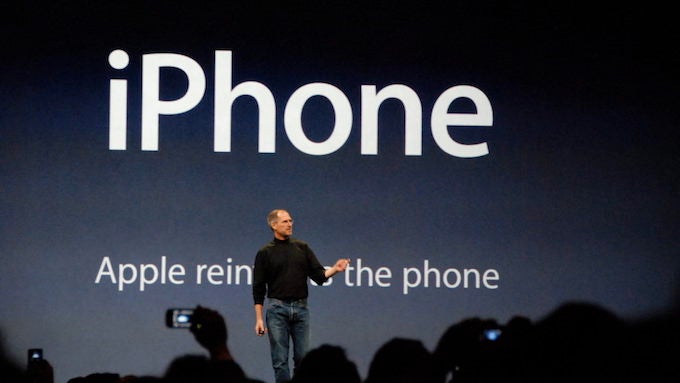 iPhone turns 10 years of age this month, after the first Apple phone was introduced back in June 2007. It's ridiculous to think of how much has changed in technology in those 10 years, since iPhone put a new benchmark on what mobile phones should and will look like.
In an interview with WSJ, Apple's former executives
Scott Forstall
, Tony Fadell and Greg Christie, have shared their experiences on the path to building the iPhone, reminiscing to times when we were all enchanted by the iPod's smoothly spinning wheel. The video of the interview provides a nostalgia-hued insight of how Apple's team conceived the idea of the iPhone, and how they faced Jobs' perfectionism and cosmic demands.
In Forstall's words, Cupertino was discussing and looking for ways to maintain and strengthen iPod's sales in the long-term, explaining that the music player accounted for about 50 percent of the company's sales at the time. The main risk the iPod could face in the future came from cellphones, which at the time were quite stiff and due for an upgrade. That's why the team decided to work on an 'iPod plus phone' prototype, which led them to testing up to 40 ways of utilizing the wheel as a functional phone dial.
"At first, we were making the iPod + phone with, you can say in a way, a hardware keyboard because it was using the interface of the iPod. We tried 30 or 40 ways of making the wheel not become an old rotary phone dial and nothing seemed logical or intuitive. To actually dial areal number, it was so cumbersome," said Tony Fadell, former Senior VP of the iPod Division.
Transforming the music player into a mobile phone, however, proved to be quite a challenge. Scott Forstall, who was Chief Software Technology Officer at Apple, went on to tell how critical Jobs was on anything the team came up with about the iPhone's interface. Apparently, Jobs gave them an ultimatum of two weeks to come up with a likeable solution of how the interface should be, which meant the team had to literally work around the clock for 14 days straight.
"And he said you have two weeks. So we went back and Greg assigned specific ownership of different pieces of the design to different people and that team worked 168 hours per week for two weeks. They never stopped. When they did stop, Greg got them a hotel room across the road so they wouldn't have to drive," Forstall told WSJ.
One of the people who engineered iPhone's software, Greg Christie, then said in the interview what Jobs' reaction was when he saw the final product they showed him. Christie used expressions, such as "completely silent", "didn't gesture", "pretty much blown away" – when describing Steve's reaction to their work. While these certainly don't match Jobs' notorious character of an ever-demanding leader, we trust that even Jobs would have melted at the sight of the first iPhone interface. We all did back in 2007, after all.
The video of the interview is also exciting, not because of the stories those guys tell, but because of the passion and loyalty Apple's former execs speak of their work with. It serves as a reminder that a successful product is usually a result of countless sleepless nights, group effort and unlimited devotion.
You can watch the full video below.
source:
WSJ
via
9To5Mac