Fresh Galaxy S6 and S6 Edge 3D design concepts depict the dual-edged screen (video)
49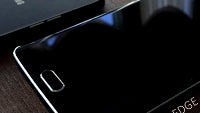 By now we know most everything there is to know about the
Galaxy S6
specs and
general design looks
, but what remains a mystery is the final chassis form and finish. Buoyed by the speculation that the Galaxy S6 and
S6 Edge
will have a metal casing that will be covered with glass at the front and back, exuding premium feeling, the group of artists at Concept Phones has been taken to the task to envision Samsung's upcoming flagships in beautiful 3D render models.
Lo and behold, the results are pretty great, depicting the thin metal frame, rounded corners, and protruding camera lens that have been cited in rumors and leaked schematics for a few weeks now. Not only that, but the concept designers have tried to imagine how the Galaxy S6 Edge - the S6 version with flexible plastic substrate AMOLED - will look like. Insiders have been tipping that it will have a curved display, like on the
Note Edge
, but the side sloping will be less inclined, making the phone actually comfortable to grab and hold without pressing virtual icons on the sides in an erratic manner. What do you think about these latest Galaxy S6/S6 Edge concepts?