FreedomPop brings free mobile service to the masses
9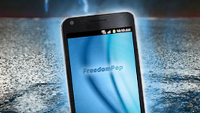 In honor of its first anniversary, hybrid carrier FreedomPop is offering free mobile phone service for life. Every month, 500MB of data, 500 text messages and 200 minutes of calls will be available at no charge. Customers can upgrade to unlimited voice and unlimited texting for $10.99 a month which is a savings of 80% to 90% from other name brand carriers, saving consumers as much as $1000 a year.
The service will be available on FreedomPop's
HTC Evo Design
smartphone, which will be available for $99. That already is a 65% discount. Freedom Pop says that it will offer customers more choices later this year with a selection of popular Android models. Stephen Stokols, FreedomPop's CEO and co-founder, said that a consumer paying $1500 a year for a mobile service can save up to $1000 a year for the same plan with his service.
FreedomPop offers free 4G data through hotspots and fills in the gaps using Sprint's network. Earlier this year the company started using 4G service from Clearwire and added Sprint's pipeline in April.
"FreedomPop is changing the mobile market forever with the sole intent of bringing better value to consumers and increasing accessibility. FreedomPop's mission is to ensure that everyone has access to affordable, convenient and essential communication services. With this launch, we've just taken our largest step to date towards delivering on this objective."
-Stephen Stokols, CEO and co-founder, FreedomPop
"The historically staid mobile operator industry is not only ripe for disruption; it is being disrupted today by creative pricing and service delivery strategies. Combining more economical voice over IP-over-cellular technology with emerging freemium business models such as these provides choice for customers looking for mobile service alternatives while pressuring incumbent carriers to respond as well."
-Rich Karpinski, senior analyst, Yankee Group.
If you are interested in FreedomPop's offerings, you can click on the sourcelink below.
source:
FreedomPop