Apple TV+ shows launch list, what's the best one so far?
11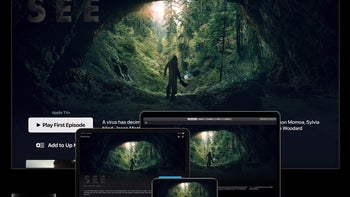 The new
Apple TV+
streamer is free for a year if you get most any new Apple device (save for the Watch, of course), and if you are a student, it will even get folded into your Apple Music subscription.
The reason? Well, as of right now there are just nine shows in total to watch, and the critics are spreading their review cheer over three or four. The professional TV series and moview reviewers are very nitpicky, though, as they are jaded from watching thousands of those over the years, and comparing each new one with the best out there.
The average user who just got an iPhone, iPad or Apple TV puck will probably appreciate more that Apple is giving its debut shows away, and if you have binged some over the weekend, a few favorites might have shaped up. This is why we wanted to ask you which of the freshly baked Apple TV+ content is your fav so far?
| | Theme | Episodes | Episode length |
| --- | --- | --- | --- |
| Dickinson | Period comedy | 1 season, 10 episodes (renewed) | 30 minutes |
| For All Mankind | Science fiction drama | 1 season, 10 episodes (renewed) | 60 minutes |
| Ghostwriter | Family mystery | Season 1 ongoing | 30 minutes |
| Helpsters | Children's educational show | 1 season, 6 episodes | 30 minutes |
| The Morning Show | Dramedy | 1 season, 10 episodes (renewed) | 60 minutes |
| Oprah's Book Club | - | Season 1 ongoing | |
| See | Science fiction drama | 1 season, 8 episodes (renewed) | 60 minutes |
| Snoopy in Space | Animation | 1 season, 12 episodes | 10 minutes |
| The Elephant Queen | Nature documentary | | 96 minutes |
Apple's comedy and drama orders have multiple shows brought on by Reese Witherspoon. This one is a morning news TV series drama (or, maybe, we should stop calling them TV shows) with Jennifer Anniston and Steve Carell, and scripted by the House of Cards' Jay Carson. Another Reese Witherspoon mention is as a producer, this time for a "You Think It, I'll Say It" scripted comedy by Apple, starring Kristen Wiig, of which there are reportedly 10 episodes already ordered.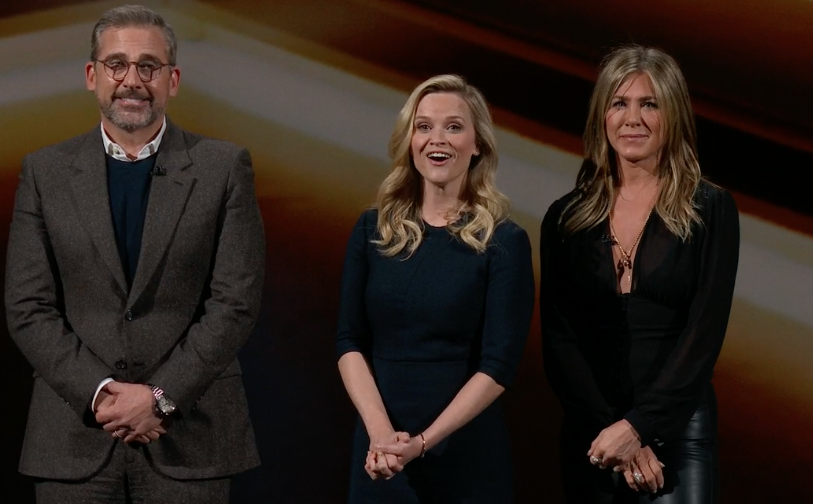 Reese Witherspoon, Jennifer Anniston and Steve Carell star in the new Apple Morning Show
"For All Mankind"

Produced by Sony Pictures Television and Ronald D. Moore (Battlestar Galactica), For All Mankind explores the future of a fictional global space race. Jodi Balfour plays pilot Ellen Waverly, joining previously announced Joel Kinnaman (The Killing, Altered Carbon), Michael Dorman (Patriot, Wonderland), Sarah Jones (Damnation The Path), Shantel VanSanten (Shooter, One Tree Hill) and Wrenn Schmidt (The Looming Tower, Outcast).







"Dickinson" is an Emily Dickinson comedy (of all things) with Hailee Steinfeld

This coming-of-age comedy is set during the great American poet Emily Dickinson's times from the viewpoint of Emily (Steinfeld). The retro environment mixes modern questions about gender's places in society, family relationships and the writer who is well ahead of her times. Now this mashup would be interesting to see, and with cast like Hailee Steinfeld (Pitch Perfect 3, True Grit) and producers Alena Smith (The Affair, The Newsroom). "Dickinson" will likely be a harbinger of what's to come in Apple's new streaming service - curated shows that won't be a dime a dozen to see what sticks like the Netflix approach.
"See" series with Jason Momoa

The Aquaman Jason Momoa has been cast in the lead role for the Apple original series "See," which is shaping up to be the most popular TV+ entry so far. Mankind, or what is left of it, is now blind, and the show sounds like an epic survival drama in the future. Momoa is playing Baba Voss, a fearless warrior and leader, what else.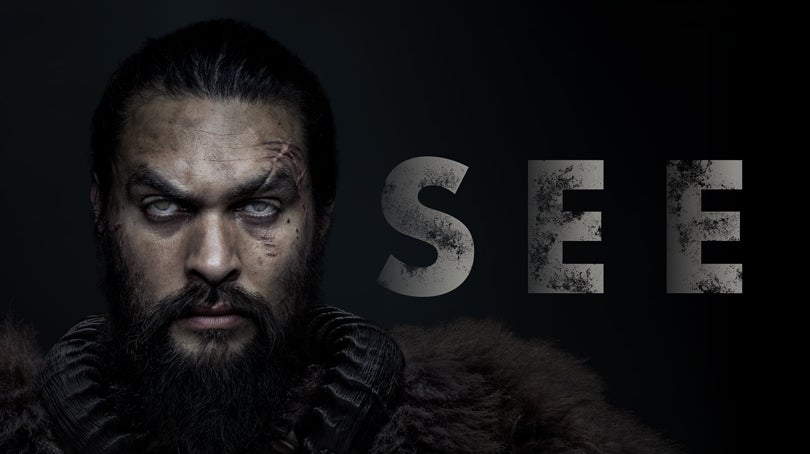 Helpsters
A new children's series from the makers of "Sesame Street" stars Cody and a team of vibrant monsters who love to help solve problems. It all starts with a plan.


A new original from Peanuts Worldwide and DHX Media, Snoopy in Space takes viewers on a journey as he follows his dreams to become an astronaut. Together, Snoopy, Charlie Brown and the Peanuts crew take command of the International Space Station and explore the moon and beyond.


Ghostwriter
A reinvention of the beloved original series, follows four kids who are brought together by a mysterious ghost in a neighborhood bookstore, and must team up to release fictional characters from works of literature.
The Elephant Queen
An acclaimed documentary film and cinematic love letter to a species on the verge of extinction. The Elephant Queen follows a majestic matriarch elephant and her herd on an epic journey of life, loss and homecoming.
Oprah!

Oprah Winfrey joins the world's most compelling authors in conversation as she builds a vibrant, global book club community and other projects to connect with people around the world and share meaningful ways to create positive change. Starting with Ta-Nehisi Coates this past Friday, who else.