France takes Apple and Google to court for stiffing iOS and Android developers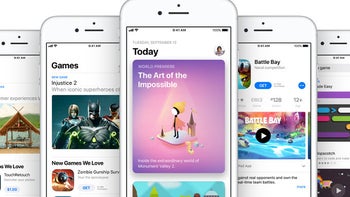 Leave it to the EU to fine those capitalistic pigs Apple and Google billions for offshoring taxes, and to France in particular to stand for the little developer guy. We kid, but after Google was
sentenced
to a $2.7 billion fine for search priorities, and Apple
set aside $14 billion
for eventual tax evasion levies, now France is taking both tech giants to court for "
abusive trade practices
," when it comes to the third-party developers who are actually populating the App Store and Google Play.
There isn't much detailed info about the case yet, but, in a nutshell, France claims that Apple and Google have formed veritable monopolies over their app stores, which should be serving the public good, given that almost anyone with a pulse and cash now owns either an iPhone or an Android handset.
The mobile OS holders will be sued because they unilaterally decide on the commission they take, the contract terms, and the eventual changes to both that developers are forced to swallow hook, line and sinker, without any negotiating power whatsoever. While that's how it's been since the introduction of the app stores, Apple earned $11 billion in commissions from theirs last year alone, so the stakes are much higher now.
As per the Finance Minister Bruno Le Maire "
I will therefore be taking Google and Apple to the Paris commercial court for abusive trade practices. As powerful as they are, Google and Apple should not be able to treat our startups and our developers the way they currently do
." If Apple spins off its App Store it would be in the Fortune 100 of the world's most valuable companies, which might explain why France is pissed about payouts to developers.