Fox TV threatens to go off-the-air, if Aereo's mobile TV streaming service is a keeper
13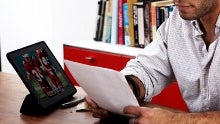 Leave it to Rupert Murdoch's media conglomerate to stand against progress that threatens its bottomline. First it was pulling the Wall Street Journal from Google News, now it's a threat to take Fox News off the air if Aereo gets its way.
Aereo just got cleared in court last week to continue with its disruptive TV streaming service for desktop and mobile devices, which can finally fulfill our dream to watch live TV on our phones and tablets, and in high quality at that.
The way Aereo achieves it is by allocating tiny antennae in its data centers for the devices it streams to, thus taking advantage of the law that gives public spectrum to media companies in exchange for the free aerial broadcasting of their signal to more than 50 million Americans that use antennas to get TV.
Thus Aereo avoids paying the hefty licence fees that cable companies do, and streams popular channels to your iPad or iPhone for as low as 17 cents a day if you pay the annual $80 subscription fee, but there are many more plans to choose from. Moreover, you can record the live TV on your mobile device, and watch shows like Fox TV's American Idol, The Following and so on, at your convenience.
It is not only Fox considering taking its programming off-the-air, though - former top-level TV executive says out of ABC, CBS, NBC and Fox, at least two are actively crunching the numbers for such a contingency plan, and the rest are looking into it. Here's Aereo's comment on the matter:
Aereo has invented a simple, convenient way for consumers to utilize an antenna to access free-to-air broadcast television, bringing television access into the modern era for millions of consumers. It's disappointing to hear that Fox believes that consumers should not be permitted to use an antenna to access free-to-air broadcast television. Over 50 million Americans today access television via an antenna. When broadcasters asked Congress for a free license to digitally broadcast on the public's airwaves, they did so with the promise that they would broadcast in the public interest and convenience, and that they would remain free-to-air. Having a television antenna is every American's right.