Four more paid iOS apps that are yours for the taking
4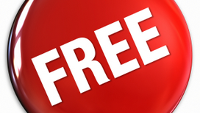 There is nothing like that feeling of getting something of value for nothing. And that is what we have right here with four more iOS apps that usually require you to dig into your wallet before downloading them on your iPhone or iPad. But for a limited time, these apps are on the house. Unfortunately, we can't say when these deals will expire, so if you see an app you like now, you should probably download it immediately. Speaking of no delays, let's get to these four free apps.
Number one is
Dear Days
. Regularly priced at $1.99, the app allows you to start a journal of your daily routine and turns it into an infographic. It also creates a photo calendar using the pictures on your camera roll. Your daily mood can be turned into an emoticon, and your pictures can be turned into a collage. Sounds like an interesting app and one that certainly is worth downloading for the low price of zero.
If saving $1.99 on an app is great, what is saving $2.99? That is exactly what you will be saving by downloading
UpWord Notes
to your iDevice for free. Calling this a "To-do list" would be an injustice as it has a tremendously long and varied feature set. It offers the ability to perform a word count (great for high school and college students). Files can be sorted by how recently they were written, sorted by alphabetical order or reverse alphabetical order. And if you're typing in the dark, night mode reverses the screen's colors to make them easier to see.
Trail Tracker GPS
is normally $1.99, but is yours for free right now. The app tracks any trip you might take, even those where you are behind the wheel of a car. The app then analyzes the information and spits out some statistics. This is for the iPhone or iPad user who is not only interested in where he is, but also wants to remember the journey that got him there. And now, we have arrived someplace, too. It actually is the end of our journey. The last freebie for now is called
Counters
. This is a tally counter that simply counts things. In the pre-smartphone days, when we all lived like cavemen, we used a click counter that fit in the palm of our hands. Today, we use our smartphone to accomplish the same thing.
All four apps are presently offered for free from the Apple App Store.
source:
DearDays
,
UpWordNotes
,
TrailTracker
,
Counters
via
BGR