Former Beats executive sues Beats Audio for breach of contract, seeks $20 million
20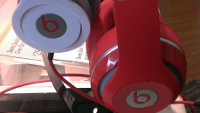 David Hyman, the founder of streaming music service MOG Inc., is suing Beats Audio. He is claiming that he was fired on purpose by Beats so that the latter would not have to give him any equity in the company. Hyman says that as part of the deal in which MOG was sold to Beats, he was promised 2.5% of the company's equity if Beats reached a market value of $500 million.
But based on Hyman's court filing, he was fired a year later, which kept him from collecting on the equity. Hyman says that the termination of his employment was done on purpose to keep him from being awarded with the equity. The firing kept him from "
receiving the fruits and benefits
" of the deal he made with Beats.
While Beats co-founders Jimmy Iovine and Dr. Dre were not personally named in the suit, Hyman is seeking $20 million for Breach of Contract. Just in case you were wondering, 2.5% of $500 million is $12.5 million. And 2.5% of $3.2 billion is $80 million.
Apple is rumored to be putting together a $3.2 billion acquisition of Beats Audio
,
mostly for its streaming music service
.
source:
Reuters