Flyne is a Twitter/Feedly newsreader from Falcon Pro developer Joaquim Vergès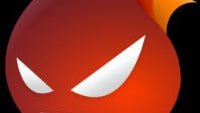 When we heard that Falcon Pro developer Joaquim Vergès had created a newsreader app that integrated with Twitter and Feedly in addition to pulling from other popular sources and blogs, we were excited. Falcon Pro is one of the best Twitter apps available for Android, but Flyne falls a bit short as a newsreader, though it is a good start.
The UI of Flyne is extremely well-done. Articles look beautiful, and it is easy to navigate - swipe in from the left for your feeds, or in from the right for the headline list from the feed you're in. Swiping left and right moves you from one article to the next. It is well made and looks great on both phones and tablets. Articles are saved by default for offline reading; and by default, you get access to 15 "Popular Feeds" which then pull stories from Twitter feeds that would apply to each category.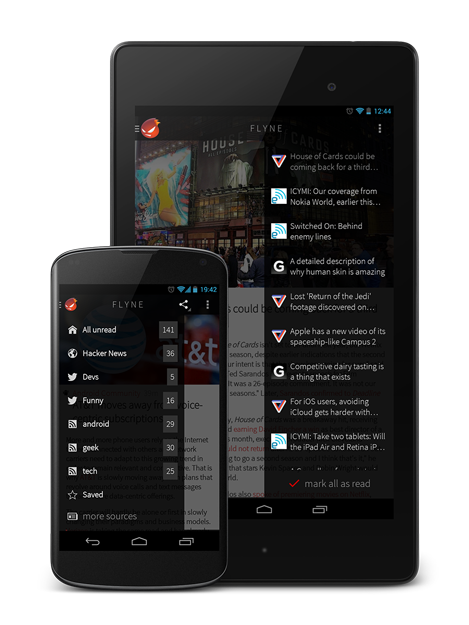 The troubles start when you try to move beyond the 15 provided "Popular Feeds". For starters, the 15 Popular Feeds are not comprehensive, and can be quite general. If you like sports, the only option is "Sports", it doesn't care if you may only like basketball and don't care much for football or baseball. Similarly, there is a "Music" category, but again it doesn't care what kind of music you like. However you can extend these feeds by adding either Twitter or Feedly sources.
Given the annoyance involved with Twitter tokens (as
Falcon Pro
has met
time
and
again
), it makes sense that Vergès is being careful about integration, so it will cost you $1.99 to unlock the Twitter login functionality. Unfortunately, if you also want Feedly integration unlocked, that will cost you an extra 99 cents. We would have preferred to have one in-app purchase to unlock both. Additionally, while you can unlock Feedly and pull stories from Feedly, there is no two-way syncing right now, meaning Flyne would have to become your one and only news reader, because read items and saved items would not sync back to any other Feedly-compatible app.
Still, these are relatively minor gripes, and they are issues that can easily be fixed in future updates. If you're looking for an app to pull news from your Twitter feed, there are other options, but Flyne definitely works quite well. However, if you're looking for a Feedly app, you may want to hold off for a future update on that one.
*Update*The morning after this write-up, Flyne received an update to add two-way Feedly syncing, and syncing saved articles to Feedly. So, that clears up the issues we had with the app.