First look at Files, the new file manager in iOS 11
43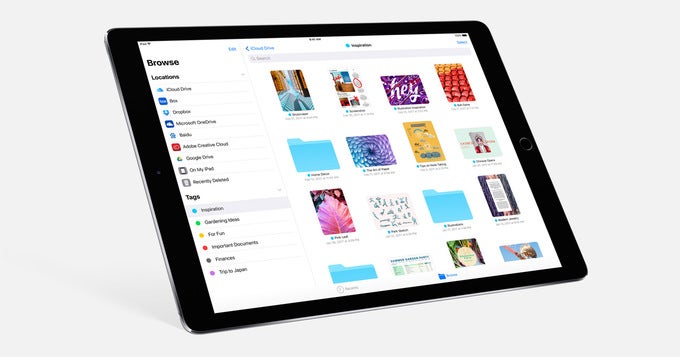 Better late than never, as the old saying goes. At WWDC 2017, Apple announced that it will be adding a new application to iOS, appropriately named Files. It will arrive with the launch of iOS 11 later this year and, as you can imagine, it will allow you to browse and manage your stuff – media, documents, and anything else you might have stored offline or online. But we're left with the feeling that Files's introduction may have left quite a few questions unanswered, so in this article, we'll give you a more in-depth overview of the new iOS file manager.
How can I get Files on my iPhone or iPad?
Files is a free app coming to iPhones and iPads in the fall. It will appear on your home screen as soon as iOS 11 is done installing on your iPhone or iPad. Yes, the app is available on the iPhone as well, even though Apple's presentation was focused exclusively on showing how Files works on the new iPad Pro. We have it currently installed on our iPhone 7 Plus, running the iOS 11 developer preview.
One way of getting an early version of Files is by installing the iOS 11 public beta once it becomes available, but it might be another couple of months or so until that is released. Another is by having an Apple developer account and installing the iOS 11 developer preview which is already available for testing. However, this release is highly unstable, which is why flashing it on your daily driver is probably a bad idea.
What does Files look like?
Files is about as exciting of an app... as a file manager can be. Here's a few screenshots:
What can I use Files for?
not
made for accessing the entire iOS file system. Important system and application data is still off limits, and that's surely for the better. The purpose of Files is to let you manage files you have stored in the cloud and locally on your device – to move, rename, and organize your stuff as you're used to doing on your computer, for example.
We must point out that we can't seem to access local folders that we think we should have access to, such as the one with all our photos. This might change with iOS 11's final release.
Now, when we say that Files is compatible with cloud services, we mean that its reach goes beyond iCloud. Third-party services are also supported: Google Drive, Microsoft OneDrive, Dropbox, Box, as well as Baidu, Tencent Cloud and Adobe Creative Cloud.
What's so cool about Files?
As a native application, Files is built to take advantage of iOS functionalities – drag and drop, for instance, is present across the app, and on the iPad, placing the app on the dock gives you quick access to files with a long-press on it. Side-by-side multitasking is also present, allowing iPad owners to do cool stuff like dragging an email attachment directly from their inbox over to a select folder.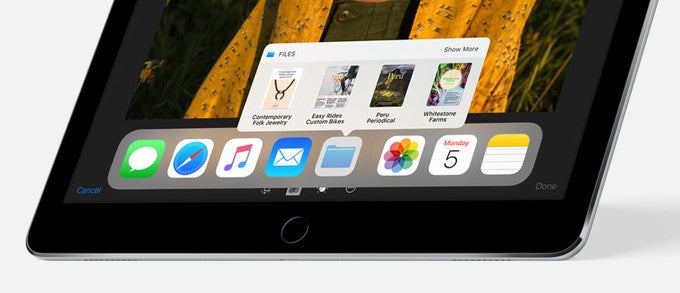 And those colored dots you may have noticed, those are file tags. These are added to files that you want to have grouped under a certain category without having to place them in the same folder. Naturally, tags will show up in the search bar, but you can tap on one to show all files tagged with it. New tags can be created, while existing ones can be renamed or deleted.
On our iPhone 7 Plus, there's a Files widget as well. Also, Spotlight Search returns results from within the Files app. And if we turn the iPhone sideways, we get a cool split-screen view: with a folder's contents on the right and a navigation panel on the left.
And a note before we go:
The Files app in the currently available iOS 11 developer preview can't be described as fully functional. Many features are still unavailable, including management of locally stored files and compatibility with third-party cloud services. Therefore, we weren't able to test them. But we do welcome the introduction of a user-friendly file manager to iOS – a feature that took longer to arrive than it should have. For a final verdict on how well Files gets the job done, we'll have to get to play with the final iOS 11 release.