First images, video of RIM's BlackBerry 10 devices surface
20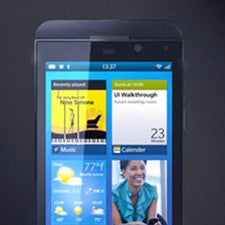 Research in Motion hasn't released a new BlackBerry in quite a while. And for a good reasons - BlackBerry 7 just won't cut it anymore. Luckily the day is finally approaching when RIM releases its supposed savior, the first BlackBerry 10 smartphones.
The company plans to bring two types of devices initially: a
full touch BlackBerry smartphone
, kicking off the L series, and another handset closer to the traditional 'Berry, a
full QWERTY N series phone
.
A video appeared on Vimeo showcasing the two devices, but was quickly pulled and we only have screengrabs of it, but they illustrate well the upcoming smartphones. It's still a leak and not 100% credible, but it does look legitimate as if this was made for inside use for BlackBerry to try and sell its smartphones to vendors.
Funnily, the video seems to have been accidentally leaked by Rob Jury, the same person who edited it. Check out the screen grabs below and let us know, will those 'Berries do it for RIM's big return in smartphones?
source:
CrackBerry