First 'Samsung Mobile Store' opens doors in Paris
18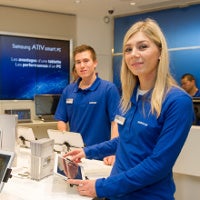 After the Apple Store experiment proved more than successful, everyone is rushing to replicate it: Microsoft, HTC, and now Samsung. Unlike Microsoft, though, where the whole experience starting from the blue-shirt workers and modern wooden accents, the Samsung Mobile Store is a bit different.
It still shares the same idea of simplicity and focus on a few but good products, and it is in blue and white, but those colors are justified as they are typical for Samsung. And just like Apple Stores, Samsung has chosen an iconic location - Paris, the romantic capital of the world.
The first Samsung Mobile Store will have smartphones, tablets, digital cameras, notebooks and accessories, that you'd be able to check out in person, but also get help with. There will be 8 Samsung experts to help with the devices.
The store is located on 5 Boulevard Malesherbes in Paris and has already opened doors, take a look at how it looks below.
source:
Samsung Tomorrow