First Samsung Galaxy Note5 benchmarks show that it's still heavy handed
70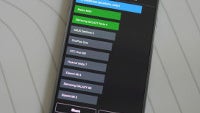 Quickly peeking at our performance benchmark tests, it reveals that Samsung's S6 line sits at the top of the ladder. The Samsung Galaxy S6, S6 edge, and S6 Active, all share similar top-notch performances that show the incredible might of Sammy's Exynos octa-core chipset. In previous years, the Note line received a subtle upgrade with its processing hardware, but this time they've opted to leverage the same processor already in use by the existing S6 line with its latest phablet king – the Samsung Galaxy Note5.
After Samsung's big announcement today in New York City for its Unpacked event, we spent a little bit more time dabbling in more detail with the Note5. Under the hood, it's powered by the Exynos 7420 octa-core processor, which is based on the industry-leading 14nm FinET manufacturing process. This particular setup receives its might from four Cortex A57 cores running at up to 2.1GHz, and another four power-efficient A53 cores clocking in at up to 1.5GHz. What's different, though, is that the Note5 is accompanied with an even more generous 4GB of LPDD4 RAM.
Running a few of the popular benchmarks on a pre-production Note5 at the show, it's not all that surprising that it produces some top-notch results. For example, it climbs straight to the top of the charts with AnTuTu – where it reaches a respectable score of 69,401, putting it within the same caliber as its S6 siblings. Meanwhile, there's still room for improvement with GFXBench, as it tallies up at 34FPS with T-Rex and 7.6 FPS with Manhattan. The results can be attributed to the Quad-HD resolution it's using, which like many other phones with the same resolution, can be taxing for the chipset and GPU to handle. Then again, we're dealing with a pre-production unit here!
Beyond the synthetic benchmarks, we can certainly agree that the real-world performance of the Note5 is absolutely snappy and responsive – much like the others in its clan. That means minimal load times for apps, buttery navigational controls, and few occurrences with delayed responses. Seeing that the Note5 is widely regarded as a productivity workhorse, it needs all the might to continue showing other phones it's still class-leading in the space.