First Verizon Note 10+ 5G teardown reveals Samsung's bezel-killing genius
1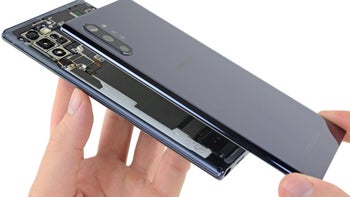 Finally! The first teardown of the Galaxy Note 10 is here, and it answers many pressing questions. The crafty folks from iFixit got their hands on the most complex model at that - the
Note 10+ 5G
for Verizon - and revealed what we suspected, and what Samsung tips in the manual.
In case you are wondering what the heck are we talking about, it's the tiny elliptical opening in the top frame that we first so in leaked press renders of the Note 10. At first, some thought this is an IR blaster, as it wasn't very clear if it is hollow or not. Upon release came the guesses that it serves as a speaker, as there is no visible earpiece at the top bezel of the phone.
Samsung itself marks it as a speaker in the Note 10 manual, but upon disassembly, iFixit found out that this is actually the chamber that echoes out the sound produced by an internal earpiece. If it sounds like a convoluted way out, just remember that the display of Huawei's
P30 Pro
vibrates itself to produce in-call audio, complete with a tiny dedicated motor separate from the one for the haptic feedback. The end result? The Note 10 family are the most compact for their screen sizes phones in their class, thanks to the case of the incredible shrinking top bezel.
The other new and interesting parts inside are the industrial-grade vapor cooling chamber, and the three mmWave antennas situated around the phone's edges. Verizon's 5G high-band network offers the greatest speeds but the lowest penetration rates that
can be blocked by your hand even
, necessitating more antennas to be strategically placed around the phone to prevent loss of coverage. Needless to say, 5G also heats up the phone significantly, so the state-of-the-art cooling system inside the Note 10+ 5G is a welcome addition.
Elsewhere we see the usual components of high-end phone paraphernalia glued very tightly together on stacked mother- and daughterboards, leaving us with a poor 3/10 score for repairability due to the specialized instruments needed to disassemble and the copious amounts of strong adhesive used throughout the phone's internals.