First Galaxy Fold teardown shows influencers how to properly peel off the 'piece of rubber' display
15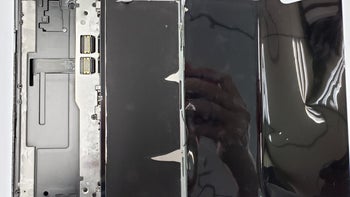 "
I don't seem to be disassembling a screen, but tearing a piece of rubber
." This is how the first teardown of the unique
Galaxy Fold
went, and its
author
also adds that the bendable screen is really easy to take down as it is very soft and pliable.
They did manage to demolish the small, rigid exterior display, though, all in the name of science. As you can see, the 7.3" flexible display was taken out completely, cover film and all, with a wrinkled ease, so we can imagine how all those tech influencers damaged the screen by
tugging on the polyimide cover
at the top, thinking it was some sort of a weird screen protector whereas it is part of the display package itself.
Elsewhere in the phone we can see the funky dual-battery setup that gives the Fold a huge 4380 mAh battery capacity by putting a battery pack in each "wing" of the phone. An intriguing hinge and cable system helps the two parts of the phone communicate and, overall, the inside is a marvel of Samsung engineering.
We'll see how the endurance pans out but if you can live with the crease in the middle and those unfortunate review loaners that had screen issues without peeling off the cover turn out isolated incidents, you might very well be tempted by the sheer novelty factor of it all.