First 64-bit Samsung phone gets benchmarked, sports a Snapdragon 410 chip
72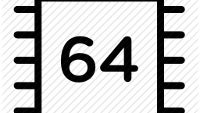 Ever since Apple introduced the industry's first 64-bit processor with the iPhone 5s, silicon slingers have been in a state of emergency, or that's at least what multiple accounts seem to suggest. While those initially attempted to laugh off 64-bit chips publicly, it eventually became obvious that, much like anything else in the industry, the rest must follow. You may call it herd mentality, but it probably has a lot more to do with pure business than anything else.
Either ways, the current silicon king in the mobile space, Qualcomm, didn't take long to announce it's own plans to make the jump towards 64-bit processors, with processors like the Snapdragon 410, 610, 615, 808, and 815, all of which will be based on ARM's new 64-bit architecture. And while chip development usually takes a long time (in smartphone years, that is), we're already getting the first real hints that the first slew of devices powered by Qualcomm's 64-bit chips are around the corner. More specifically, a recent run through the GFXBench benchmarking suite left traces of a Samsung device that was powered by a 64-bit Snapdragon 410 chip and an Adreno 306 GPU.
The rest of the specs powering this still mysterious Samsung device (SM-G510F) include a 4.8-inch, 540 x 960 (qHD) resolution display, 1GB of RAM, and 8GB of internal storage. As for imaging, the SM-G510F makes do with an 8-megapixel rear snapper capable of 1080p video capture, and a 5MP front-facing selfie cam. Lastly, the device in question ran Android 4.4.2 KitKat.
As for the type of performance you can expect from a device with similar specs, this GFXBench pass already provides some clue. That said, do keep in mind that this is likely a model in early development, so further optimizations could (and likely will) take place. With that in mind, we've got to say that we weren't very impressed -- when compared with the Moto G (which has a more demanding, 720p screen), the SM-G510F managed to snatch a victory in several tests, but not by a mile. But we'll give this the benefit of the doubt and wait until these first 64-bit Android devices become a market reality. Until then, sit tight.