Federal Appeals Court rules that Apple has the right to appeal dismissal
14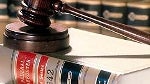 The United States Court of Appeals for the Federal Circuit has ruled that Apple has the right to
begin its appeal of a ruling made in Wisconsin district court
by US District Court Judge Barbara Crabb. The judge had dismissed Apple's claims against Motorola which accused the Google subsidiary of not following FRAND negotiating guidelines for standards-essential patents. These are the patents that are deemed necessary to the building of certain devices and negotiations for licensing them are supposed to be handled in a Fair, Reasonable and Non-Discriminatory fashion. Motorola's claim, also dismissed by the judge, involved Apple's use of its standards-essential patents without a license.
Motorola wanted Apple's appeal to be halted or have the proceedings moved to the court of Judge Richard Posner who had previously presided over other Apple-Motorola suits. The appeals court had no choice but to turn down the appeal from Motorola since allowing it would have led to the company seeking a
sales ban
on Apple products which would have
violated a consent degree that Google signed with the FTC
to settle anti-trust charges. Motorola had failed to mention the consent decree in its filing, something that the court picked up on. Even asking for an injunction on sales of Apple products violates the decree, although there has been no apparent movement to punish Google. Even though Motorola's requests were basically shot down, the request to move the case to Judge Posner's court is still a possibility as the appeals court asked both sides to file briefs on the issue of jurisdiction with Apple's opening brief due in three weeks.
Apple says that a sales ban should not be allowed until all efforts at licensing FRAND-related patents are made. The problem is that Motorola has not tried hard to negotiate a license with Apple for these patents, and when it did come up with a royalty figure that it wanted Apple to pay (2.25% of retail), it was
well above
the industry norm. Recently,
a Washington court told Microsoft to pay Motorola $1.8 million a year
for a couple of patents related to wireless standards and video standards. Motorola was seeking $4 billion a year for the rights to use those two patents.
source:
FOSSPatents
via
electronista