Feast your eyes on the official Android 6.0 Marshmallow Easter egg and hidden mini-game
12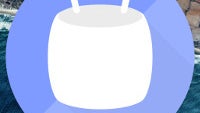 Google's pretty big on Easter eggs — intentional hidden messages and that sort of stuff —
and has been incorporating at least one with every major Android version
. Even beta builds get one. And as we finally got our hands on the official image of Android 6.0 Marshmallow for our Nexus 6, we thought we'd share what's in store this time around.
For starters, the loot hasn't changed much. We've still got an Android Lollipop-like background for the initial graphic, which now looks like a frontal of a marshmallow-headed bugdroid, and even the mini-game available if you long press it is similar. It's still a Flappy Bird clone, but this time the obstacles are giant marshmallow heads on sticks.
If you get Android Marshmallow on your device and would like to check it out for yourself — and even waste a few hours trying to get your high score to 3 — you should head over to
About > Tap on Android version several times
. You'll see the same thing shown in slide #1 in the gallery below, and would need to tap on the Marshmallow logo several times followed by a long press to enter the mini-game.