Facebook may send you unwanted texts if you use its two-factor authentication (UPDATE)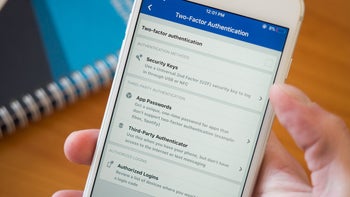 UPDATE #2:
Facebook has confirmed that the unwanted text messages have been sent due to a bug. The issue will be resolved.
Facebook's two-factor authentication is a feature aimed at making your account more secure. It works by prompting you to enter a code whenever you log in, and one of the ways to obtain a code is by having it sent as a text to your phone number. However, some Facebook users who have two-factor authentication enabled have been getting more than they actually signed up for.
The issue was recently brought up on Twitter by user Gabriel Lewis, who gave Facebook his phone number so that he could receive his two-factor authentication codes as texts. Strangely, he's beeen also getting texts with status updates from his Facebook friends - a feature that does otherwise exist, but never enabled by Gabriel. Furthermore, responses to these texts ended up posted on his timeline, as he later found out. This is not a one-time scenario as other Twitter users have reported experiencing the same thing.
So I signed up for 2 factor auth on Facebook and they used it as an opportunity to spam me notifications. Then they posted my replies on my wall. pic.twitter.com/Fy44b07wNg

— Gabriel Lewis (@Gabriel__Lewis) February 12, 2018


We've reached out to Facebook for comment on the case, but we've received no response yet, so we're not sure if the unwanted texts people have been getting are a feature or a bug.


If you'd like to avoid receiving text messages you can use some of the other methods for two-factor authentication, including receiving a code from Facebook's Code Generator, using a third-party app or approving your login from an already recognized device.


UPDATE:

We've received Facebook's response regarding the case:


We give people control over their notifications, including those that relate to security features like two-factor authentication. We're looking into this situation to see if there's more we can do to help people manage their communications. Also, people who sign up for two-factor authentication using a U2F security key and code generator do not need to register a phone number with Facebook.


source: @Gabriel_Lewis via The Verge; Facebook
Recommended Stories