Facebook follows Google and adds auto enhancements to mobile photos (iOS now, Android later)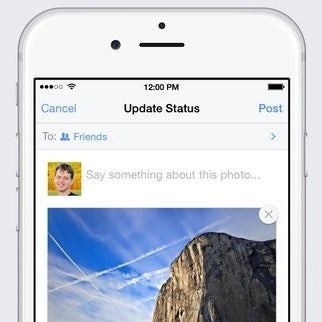 Pretty much everyone on Facebook shares mobile photos. So Facebook thought it would be a good idea to add an automatic enhancement feature for images uploaded from your phone. Available starting today to iOS users, the feature automatically adjusts your photos' lighting, shadow, and clarity, obviously in an attempt to make them look better. You can still control the level of enhancement, or revert to your original photos.
If all this sounds familiar it's because Google has had a similar feature on Google+ since last year.
Speaking of Google, Facebook's automatic photo enhancements will also be available to Android users, though it's not clear exactly when ("soon", anyway). Facebook didn't say if owners of Windows Phone devices will get the new feature.
Previously, Facebook allowed users to apply some filters, or enhance the lighting of mobile photos, but the process was rather cumbersome.
What do you think, is having your mobile photos automatically enhanced by Facebook a good thing?