Face ID on Apple iPhone X can't be used for family app purchases
40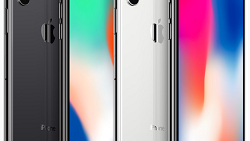 So, your son has approached you with a list of apps that he wants you to buy him from the App Store for the holidays. In the past, with the "Ask to Buy," or "Family Sharing" feature, you would receive requests from your kids for permission allowing them to install apps on their iOS devices. As the "family organizer," it was up to you to approve each request. After checking to make sure that your offspring wasn't trying to slip in some violent or sex-filled game, you would signal your approval using Touch ID.
But now you own an
Apple iPhone X
. And to give a thumbs up to the list of apps your kids want you to purchase for them, you need to use Face ID to signal an approval. Is this allowed? Unfortunately, the answer is "No." Mommy and Daddy can still approve their kids' app requests with the iPhone X, but it will require that the family organizer type in his/her complete Apple ID password to each and every request. And these days, such passwords could be extremely long and tiring to type.
Why has Apple made things a little more difficult for a "family organizer" to approve apps for his or her children? It all revolves around Face ID. "Family Organizers" and parents sporting a model or a device that employs Touch ID can still use their fingerprints for approval. But since Face ID can be fooled by a family member who has a strong resemblance to an iPhone X owner, Apple might not have wanted to take the chance that a daughter who looks just like her mom, or a son who is the spitting image of his dad, hijacks a Face ID approval, and turns it into an unapproved shopping spree. At least some believe that this why Face ID cannot be used with the "Ask to Buy" or "Family Sharing" features.
For now, there is nothing from Apple that gives us a definitive explanation. If we hear something from Cupertino, we will certainly let you know.
source: Apple via
ArsTechnica