Explorer climbs Everest, takes photos and immersive video with Samsung's Galaxy S7 and Gear 360
7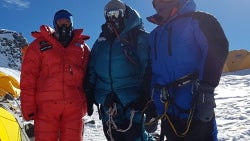 This year, both Samsung and LG expanded their effort in the field of 360-degree accessories by introducing cameras that can shoot sphere videos and pictures — the
LG 360 Cam
and
Samsung Gear 360
. Both devices work on the same principle – two fisheye lenses on either side of the camera shoot in 180-degree angles each, and then stitch the imagery up for a full, 360-degree view. LG's sensors are 13 MP each, while Sammy's camera packs 15 MP ones.
This type of accessory is still pretty niche, and may have a hard time attracting interest with their somewhat steep price tags - $200 for the LG 360 Cam and $350 of Samsung's Gear 360. So, Samsung, naturally, wanted to show what the Gear 360 can do. And hey, why not showcase some shots with the
Galaxy S7
while at it.
Korean climber Yong-Ho Heo took Samsung's latest flagship smartphone and the Gear 360 on his latest climb to Mount Everest and a few shots taken with both devices can be found on Samsung's news blog. A 90-second 360-degree video shows the beautiful scenery that can be seen on a few stops along the way. The clip can be experienced with any Google Cardboard viewer, Samsung's Gear VR, but can also be viewed on a regular YouTube player – you just have to drag around to view the whole sphere.
There are also 5 photos taken with the Galaxy S7, showcasing the phone's impressive camera. In a couple of the shots, we get to see how well the snapper performs even when the sun is blasting directly in front of it — it's still able to capture details and colors in the less exposed areas of the shot, despite the challenge.
According to Heo, bringing along a light pair of smartphone and portable camera can be a literal lifesaver when conquering the dangerous peak, while still enabling the explorer to take breathtaking pictures and video. It probably helps that both the Gear 360 and S7 are water- and dust-resistant, increasing their chances to survive a rough ride like the climb documented here.