U.S. iOS users need to uninstall the Chrome browser app now
10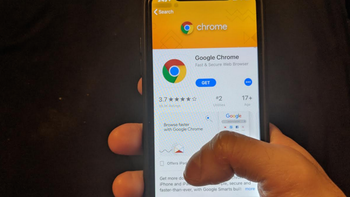 A report from internet security from Confiant
(via
Tom's Guide
) reveals that a flaw with the Chrome browser app for iOS is allowing a group of criminals known as eGobbler to "hijack" iPhone users and steal their cash. Fake ads will pop-up on the browser and will take the user to another website where he is tricked into giving up his password and other log-in information. The Chrome browser for Android is not affected by these attacks.
The latest attack started on April 6th and ran for six days. During the course of the attack, nearly 500 million fake ads were served to iPhone users, mostly in the U.S. During this recent attack, eGobbler ads could be recognized by the .World domain name on their landing pages. Even though the Chrome browser features a pop-up blocker, Confiant discovered the technique used to bypass this security feature. The security firm said that once Google fixes the exploit, it will reveal how this was accomplished by eGobbler.
Since this group often launches its attacks during holidays, there is some concern about the upcoming Easter weekend. Confiant notes that eGobbler campaigns peak about 36 to 48 hours after they start. The attacks infect legitimate ad-servers, and while Chrome team members were alerted on April 11th, iOS users (especially those in the U.S.) need to uninstall Chrome immediately. There are other third-party browsers in the App Store if Safari is not a viable option.