Evernote hits WP7 and looks sexy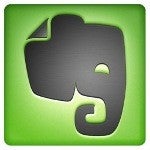 Regardless of your mobile OS preference, it seems like an objectively true statement to say that Windows Phone 7 has the best looking UI of any platform. iOS is essentially an app launcher, and certain widgets, alternate launchers or manufacturer skins can make Android extremely pretty, but for the stock OS and design standards that are carried out in the apps, it seems fair to say that WP7 is the prettiest of them all. Now, that slick UI has been put towards Evernote in their newly released WP7 app.
Overall, the app looks great, certainly packs in quite a few features, and as always it's free.