European mobile carriers may soon begin blocking ads from Google and other ad firms
30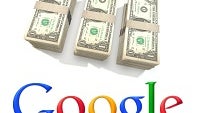 According to a new report, at least one carrier in Europe has installed software that is able to block online ads from the likes of Google other ad-driven companies. The unnamed carrier will, as per The Financial Times, activate the software by the end of this year, and the opt-in system could well prompt a shake-up in the world of mobile advertising.
The software is powered by Israeli start-up Shine, but while it may seem like the carrier in question is doing all this out of the goodness of its heart, there is,somewhatpredictably, an apparent ulterior motive. See, Shine is backed by Li Ka-shing, a very wealthy individual who just so happens to own telecommunications outfit Hutchison Whampoa, parent company of major European network operator Three. By jumping into bed with carriers and getting Shine's software up and running, Li Ka-shing could make a significant dent in the ad revenue of Google et al, pushing such firms to concede a portion of their revenue.
The underlying incentive for carriers to implement software like Shine is to reduce bandwidth. Ads contribute significantly to overall traffic, but with blocking features in place, the load could be lightened, and, in turn, services expanded. If all of this goes into action, there's a chance that ad firms like Google could be pushed to share the wealth, in giving up some of their ad revenue. Carriers may then be able to set up paid-for ad-blocking system that could permit the likes of Google to continue about their business, but while losing a sizeable chunk to the blocking system of the network providers.
Mobile consumers would surely be stoked at a substantial quantity of the Web's ads being obscured, but the bully-boy tactics will doubtlessly ruffle the feathers of Google and other big-named prospective targets. Not only could the blocking software have a significant effect on revenue -- hindering the progress of free services like the Android software -- but the inescapable issue of net neutrality may also come into play.
After all, net neutrality laws state that a network's data must be managed with equality and impartiality. If certain carriers begin automatically obscuring the ads of certain major players, they could land themselves in hot water. The fact that this appears to be an opt-in scheme, however, means that there wouldn't necessarily be a net neutrality breach, so instead, expect to see plenty of lobbying and remonstration from the Web's major ad companies if Shine's software begins to take effect.