Eric Schmidt: "By the end of the decade, everyone on Earth will be connected."
19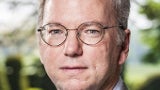 According to a new G+ post by Google chairman Eric Schmidt, pretty much everyone on Earth is going to have some sort if internet connection by 2020.
"
For every person online, there are two who are not. By the end of the decade, everyone on Earth will be connected.
"
Wishful thinking, or a well-founded forecast? Well, we can't be sure yet, but the thought of every person being able to access the internet does make us really excited! The internet is chock-full of information right now, imagine what it will be like when the number of users increases threefold! Currently, about 34% of the world's population is said to be online, which means that we're still in the early stages of deployment. However, it also means that there's quite a bit of work left to be done until everyone on Earth can enjoy PhoneArena.com.
Schmidt's post also raises some other interesting questions. For example, what's going to happen with countries that have the resources to build an internet infrastructure today, but do not do so, because they don't want their citizens to have access to the biggest info pool in the world. Will those countries change their mind and embrace modern virtues like... freedom? Who knows, let us hope that the world will have become a better place by 2020.
source:
Eric Schmidt (Google+)
via
AndroidAuthority
Recommended Stories