Envious of Galaxy S7's Always-On Display? Here are some Android apps that do the same, sort of
9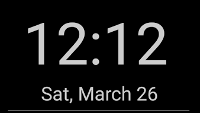 Although the Galaxy S7 and S7 edge did not particularly introduce a bursting amount of brand new software and functionality features, they still debuted with some intriguing novelties aboard. Chief among these is, without a shadow of a doubt, Samsung's Always On Display.
Utilizing the strengths of AMOLED, it's a nifty feature that is constantly keeping part of the display on in order to show important info, such as the current time, calendar, or pending notifications from system apps. It makes use of AMOLED displays' ability to light up only a handful of pixels and thus doesn't use lots of battery.
It's nice and all, but the concept behind Always On Display is not new. Nokia did it long ago, and lots of Android apps have also chimed in. Well, neither of these will be as well-made as Samsung's baked-in one, but still, here are some worthy alternatives of the Always On Display feature that you can have on any Android device. Needless to say, those with AMOLED displays are recommended!
Glance Plus
Glance Plus is one of our favorite apps of the kind. Feature-wise, it's rather similar to Samsung' Always On Display, though Glance Plus will not remain always on. It can keep the display on for up to 120 seconds after your device falls asleep, but you can easily turn Glance Plus on by waving your hand over the proximity sensor twice. The app is quite customizable - you can select between a couple of different analog and digital watch faces, weather information, battery level, calendar, as well as define the brightness, color, and font size. All in all, a rather good that also doesn't drain much battery.
AcDisplay
AcDisplay is not exactly an always-on display type of app, but it is a lock screen replacement that will light up your display when you receive a notification and remind on for a pre-set amount of time. Don't be fooled into thinking that AcDisplay is just a lock screen app! It comes with an active mode, which uses your phone's sensors to show the lockscreen just when you will need it the most, for example when you pick it up from your desk or take it out of your pocket. Also, you can set a background image, but Oh, and if you're worried that it might be draining your battery, fret not - you can set it to only work while the device is charging.
Always On Display
There's a number of applications emulating the feature already, and among them, we think RttiLink's Always On Display is the slickest. Although its creator might run into some trouble with Samsung for re-drawing, or straight up borrowing trademarked graphics assets, the app is alive and well for the time being, and it's able to place the Gear S2's stock watchface or the S7's clock onto your display. It comes with other useful tricks as well – a "double-tap to turn screen on" gesture, selecting color of the text, and automatically turning the screen off when the phone is in your pocket or bag (for devices with proximity sensors only).
ClockPlus DayDream
This app is actually an extension for the already existing Daydream feature that can be found on every Android device out there. Usually, you get some limited choices when you enable the Daydream feature, but ClockPlus brings some welcome customizability to the table. It can show you your system notifications and battery status, either analog or digital clock, and allows you to adjust the display brightness.
DynamicNotifications
Another app that sort of emulates the functionality of Samsung's Always On Display, but not quite. After you download it and set it up, DynamicNotifications will discreetly show you your incoming notifications by lighting certain parts of the display. The app uses the proximity sensor to detect when your phone's inside your pocket or face-down on a flat surface. You can select what apps can send you notifications, as well as define a screen-off timeout. There is also a 'breathing notifications' feature that cycles your undismissed notifications. As with other apps of the type, you can set a custom brightness here as well.