Eight great paid iOS games that are currently available for free!
1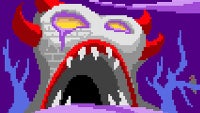 Gaming on your iPhone or iPad is a great way to burn time or just wind up and zone out. And, of course, the ony thing better than having a bunch of nice new games is to have a bunch of nice games for free! Fear not, we may have been busy scanning the app marketplace for new titles
every week
for a while now, but that doesn't mean that we don't check for some cool price drops now and again!
So, today, we managed to flesh out 8 titles that are not only discounted, but available for free! Some are modernistic strategies, others are retro-ish platformers, and there is some action inbetween. All in all – we dare say that almost any gamer should find at least a couple of titles to keep them entertained for a while.
So, without further ado, let's dive in!
Warhammer Quest
Free, from $4.99
A turn-based strategy that will satisfy gamers, no matter whether they are Warhammer diehards or just strategy fans. Quest has a very distinct, stone figurine-like art style and various levels of difficulty, ranging from casual to hardcore. The player is put in control of a 4-man team and needs to explore and clear out various dungeons. Get those tactical minds ticking, as battles could get a bit frantic!
Echo Prime
Free, from $0.99
You know you've got a purebred action game when your protagonist carries a laser pistol in one hand and a sword in the other. Echo Prime is a futuristic shoot-em-up / brawler combo that sends you fighting in various parts of the Universe. You can customize your gear with over 100 different pieces and various deadly effects. It also features a random campaign generator, which means no two playthroughs will be the same.
Bring Me Sandwiches!!
Free, from $0.99
A huge alien invades earth and demands sandwiches. What do you do? Send the most goofy-looking protagonist one can draw on a mission to deliver, of course! Aside from having comical animations, the game has a sort of a clunky control scheme. This, however, actually works in favor of its gameplay, as all ingredients combine great to give the title a unique, clumsy, funny charm. Platformer fans will have a great time with this title.
Sentinel 4: Dark Star
Free, from $2.99
A tower defense with beautiful, glowing graphics. We definitely get a sense of "Anomaly" from Sentinel 4, but the similarities end at atmospheric feel. The title plays out as a classic tower defense with upgradeable towers, many levels, and varying difficulty.
Slayin
Free, from $0.99
A simple-premise arcade game, which gets pretty frantic pretty fast. It's a 2D, pixelated retro-styled game, where you control a single knight in a small arena. Enemies keep invading the arena and your mission is, of course, to fend them off and survive. Touching an enemy with the front end of your character will damage them, while letting them make contact with your sides or back results in damage for you. Good luck!
GoatUp and Goatup 2
Free, from $1.99 / $3.99
We really like Goatup 2, but since both are free right now – we figured we'd just mention them both. GoatUp and Goatup 2 are two pretty tough and pretty (intentionally) goofy titles. As we said, we'd especially recommend the second one, but if you find yourself enjoying it – give the first one a spin, too.
Boshi
Free, from $0.99
Boshi has you playing as a lumberjack in a deep, cold forest. Your mission is simple – chop some wood, hide from wolves, don't die. Needless to say, stuff will get hectic and you will often find yourself hunted by 4 angry-looking forest-dwellers. We guess gathering that wood is pretty important for our protagonist.
Bonus mention: Dungeon of Madness
Price: $0.99, was $1.99
Download
A puzzler that will make your head spin is just too good to not include – even if it still costs a dollar, post-discount. In Dungeon of Madness, you have no control over your kight-in-shining-armor protagonist – instead, you can spin the halls in front of him around, opening up different paths before him. This may sound easy enough, but the labyrinths are full of objects and demons, which are also affected by your remodeling decisions. Now, that's a challenge that a seasoned puzzle player can respect!