EVO 4G supplies running low as some Sprint stores have sold out of the model
This article contains unofficial information.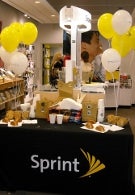 As the sun goes down on the launch day of the nation's first 4G cellphone, Sprint is apparently running low on supplies of the unit with some stores completely sold out of the phone. According to The Seattle Times, the carrier's stores throughout Washington state are sold out with sales reps hoping that more supplies will be coming in soon. Sprint stores in the Twin Cities of Minneapolis-St. Paul are almost completely sold out. One would be buyer was told by his sales rep that the EVO 4G was sold out...that is, until he told the rep that he was planning on moving over from another carrier for the handset. Lo and behold, the rep went to the back office and was able to "find" a couple of unpurchased units. This happens because a new customer leaving another carrier to buy the EVO 4G on Sprint is worth more to the latter carrier than a Sprint customer simply buying the new phone. A newspaper reporter challenged this theory by making 6 phone calls. 2 stores had a few units left and one was completely sold out. Of the remaining three stores, all said they were sold out until the caller said that he was planning on leaving another carrier to join Sprint for the purchase. Suddenly, all three of those stores had inventory of the EVO 4G. Besides Sprint, other locations known to be selling the handset today were certain Best Buy, Walmart and Radio Shack stores. The phone can still be ordered online from Sprint, Walmart, Best Buy, Radio Shack and HTC. As we had earlier
reported
, Radio Shack plans on offering a second round of pre-sales tomorrow at the instant discount price of $199.99 with a 2 year contract. Phones ordered tomorrow at The SHACK are expected to be ready next Friday Let us know if you managed to snare a unit today for yourself, a loved one or a friend.
HTC EVO 4G Specifications
|
Review
source:
SeattleTimes
via
AndroidandMe