Dude, it's Michael Dell with the Dell Mini 5
This article contains unofficial information.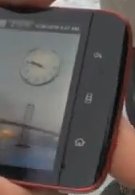 Debuting during CES, Dell has really pushed forward in getting into the US mobile phone market with a few devices up their sleeves. One of them is the slab of Android love in the form of the Dell Mini 5 – a 1GHz Snapdragon powered tablet-like device that's sure to make its presence known with its 5 inch display. Dells's own CEO, Michael Dell, gave a quick video sneak peak during the World Economic Forum in Davos, Switzerland. Showing off the Dell Mini 5 on camera wasn't too much of a problem, but he did make some hints as to its release – which looks to be here "in a few months". Sure it has some pretty good features to supplement its fast processor and gigantic display – Android 1.6, 5-megapixel camera, Wi-Fi, Bluetooth, and 3G Mobile. With the recent announcement of the iPad selling for as little as $499, the Dell Mini 5's price point of $1,098 before carrier subsidy is an eye-sore. We'll see what course of action they will take between now and its release – let's just hope they price it competitively enough to stand toe-to-toe with Apple's offering.
source:
CruchGear