Download the Samsung Galaxy S6 leaked wallpaper here!
26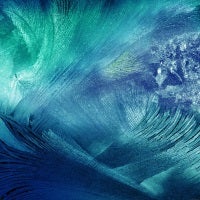 Scouring the Internet on a quest for news, we stumbled upon a very special wallpaper! History will remember it as the one that decorated the displays in the first leaked Samsung Galaxy S6 case renders that we saw. It's a work of beauty, showing a fusion of water, ice, and metal - the elements Samsung closely associates with the flagship smartphone's design.
It won't be long before Samsung's new hero phones land in some enterprising individual's hands and the official stock wallpapers are extracted from them for everyone to enjoy. Hey, it's art - it must be shared! Until then, feel free to double-click or double-tap on the image inside the gallery, and download it onto your device. It's a 2048x2048 image that's 1.08MB in size, and we think it will look great on all smartphone displays.
source: megatooth @
XDA Developers Board