Doro PhoneEasy 740 brings a less is more approach to Android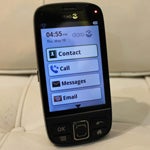 When it comes to phones, there seems to be two distinct lands: the feature-driven, latest and greatest smartphone and the stripped down to basics feature phone. When it comes to the less tech savvy, particularly the elderly, they tend to get banished to the land of the feature phone, even though there are many applications on a smartphone that they could benefit from. Surely with a powerful operating system such as Android there has to be a way to create some sort of middle ground – now there is, with the
Doro PhoneEasy 740
.
This isn't Doro's first rodeo. They've been around for a few years creating simple to use mobile devices, mostly targeted at seniors. The Swedish company is now unveiling their latest device that utilizes a heavily skinned version of Android to offer great features in a package that does not overwhelm and is simple to use.
Meet the PhoneEasy 740. While this is a pre-production model, Doro hopes to finalize the device and have it in US stores by spring of next year. On the outside the PhoneEasy 740 is a
slider with large physical keys
for dialing and
3.2-inch touch screen
for mostly everything else. While it may not be the most aesthetically pleasing color choice, Doro thoughtfully made the keys black on a lighter colored background to create an
easy to see, high-contrast look
that should suit its target audience well.
Under the hood this device is no slouch either. The display is
320 x 480
, it has
512 MB of RAM
,
4GB of on-board storage
,
5-megapixel rear-facing camera
, Bluetooth, microSD, Wi-Fi, and 3G data connectivity. The back of the device sports an
emergency call button
that can be programs to contact five different numbers. Under the skin it is running
Android 2.3
and the whole package is set to run about
$99
.
The software is what really makes this guy stand out. The home screen consists of large buttons that can display four at a time. As you can see from the images above taken by CNet, you are immediately met with Contact, Call, Messages, and Email in clear, easy to read text. It has other apps such as a web browser, podcast client, camera magnifying glass, and Doro's app store, which while it currently only has about 15 apps available, Doro's CEO said it will grow with time.
The handset also comes with a management tool called the
Doro Experience
. With it friends or relatives can be given access to manage the device remotely. It can allow them to perform common, simple tasks such as entering doctor's appointments and reminders into the user's phone. A free watered down version of the Doro Experience will be available in the Google Play store, but the full featured package with some extra cloud storage will run you
$59.99 for 2 years
.
Overall it looks like the Doro EasyPhone 740 will be a welcomed device for its target demographic. We can't wait to see it get out into the wild and see how users, and their family members who often get promoted to "family IT manager," respond to the simple interface and remote management features.