Don't fall for fake iPhone giveaways or you might end up a victim of identity theft
13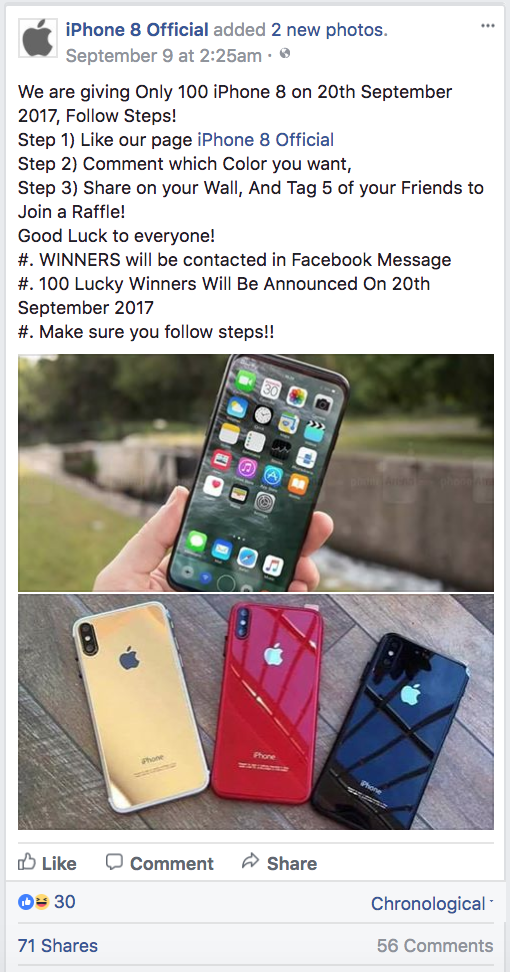 Example of a fraudulent contest claiming to give away a large number of iPhone 8 handsets
It is tempting. You're checking out your favorite social media site and you see a contest giving away a number of free
Apple iPhone X
models. All you need to do to enter is fill in the blanks to type in your name, email address, street address and the city where you live. And even though every fiber of common sense in your body is telling you that this so-called contest must be a scam, well, it is an iPhone X after all. So you enter the contest and hope that you will win.
The problem is that the information you provided can be used to open fraudulent accounts in your name. And by the way, don't wait by the front door expecting to win the non-existent prize. These type of posts make up more than half of the spam seen on social media according to Phil Tully. The latter is the principal data scientist at social media security firm ZeroFOX. Tully and his team found 282 such contests posted on YouTube, Instagram and Facebook. Overall, ZeroFOX's Platform discovered 532 fake iPhone social media accounts. A couple of fake sites, since removed, include "iPhone8 Official" on Facebook, and @official.iphone8.giveaway on Instagram.
Other methods used by scammers include fame-farming. This trick uses a social media page built by the scammers that attracts followers who become part of a list of targets. The list is then sold to advertisers by criminals. Phishing links send those hopeful of winning an iPhone X to a social media site that looks real, but isn't. By asking users to log-in, passwords are stolen. And these sites trick some into believing that they need to update their operating system, allowing malware to be installed.
While fake contests are also seen for the
Apple iPhone 8
and
Apple iPhone 8 Plus
, the price of the iPhone X, and the possibility that it will be nearly impossible to find for months, lead people to shrug off the risks and enter the phony contests because it might be the only way they can get one.
ZeroFOX has a few recommendations. Check out URLs to make sure that they are not imposter addresses with a lookalike character inserted in an attempt to trick you. Avoid manufacturers' social media sites that aren't verified and don't visit web sites without SSL or TLS certification. Some browsers use a green color near the "https" designation to denote that a site has the proper certification.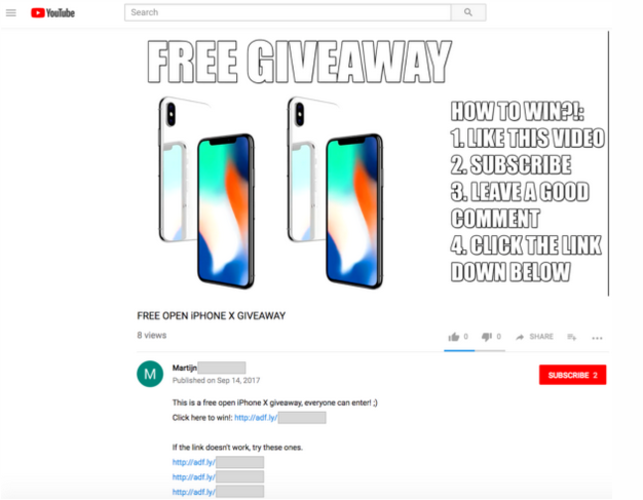 Don't enter contests like this or else you could end up a victim of identity theft
And if something looks suspicious, assume that it is a scam. Yes, a free iPhone X or iPhone 8 might be hard to resist, but unless you are 100% sure that a giveaway is legit, you risk having your bank account drained by someone who now claims to be you.
source:
ZeroFOX
via
CNET