Dolphin Browser 4.0 released for iPhone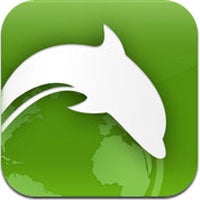 The iOS version of the popular mobile browser, Dolphin, has just been updated to version 4.0 bringing a host of new features.
Most notably, Dolphin Browser 4.0 adds voice control in the form of Dolphin Sonar. While this feature has already been available on the Android version, this is Sonar's debut on iOS. Sonar allows you to use your voice to search the Internet, share items on various social networks, save bookmarks, and more.
In addition to Sonar, Dolphin Browser 4.0 adds a URL keyboard, the ability to chose between four different search engines, three choices of font size, a night mode that allows you to dim the screen with one button, the ability to save images to your phone's photo album, and, of course, the ubiquitous "various stability and performance improvements."
Dolphin Browser is available in the App Store now for free. Dolphin Sonar, however, is an in-app add-on that costs $0.99.
source:
App Store
via
MobileBurn